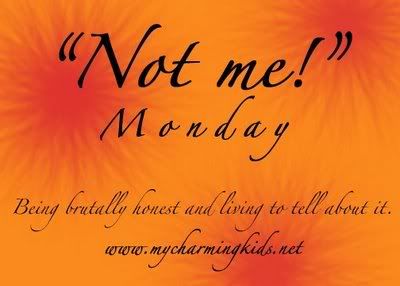 This week I did not inform one of my children how lucky they were that I'm a
gentle
Christian mother, since, if I believed in spanking I would be tempted to beat the devil out of them.
Nope. Not me!
I did not ever lose my temper when faced with attitude problems.
Nope. Not me!
I'm
always
the most cool and collected of parents.
I did not totally forget that Ciaran had taken off his clothes and needed to be redressed until after he'd peed on the carpet downstairs.
Nope. Not me!
I could never be distracted like that.
And of course, I never let Reagan make dinner because I was so tired I wanted to crawl in a hole and sleep for a week.
Nope. Not me!
I'm always full of energy.
Welcome to Not Me! Monday! This blog carnival was created by
MckMama
. You can head over to
her blog
to read what she and everyone else have not been doing this week.