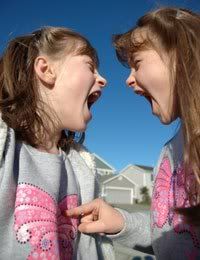 I have daughters. Two of them. Piper is six, Bridget is five. They are twenty months apart in age. When I brought Bridget home from the hospital,
I couldn't keep Piper away from her
. Bridget was her baby as far as she was concerned and she loved her right from the start.
When Bridget was six months old, she started sleeping through the night. At that point we put her in the crib in the room that the kids shared. Piper adored her baby sister so much, she'd climb into the crib with her during the night, and they'd sleep together.
Actually, they'd sleep together anywhere:
They slept together for a very long time. Even now, they still fall asleep together, fairly often. They
adore
each other. They are best friends. So why is it that two little girls who have loved each other since the moment they laid eyes on each other, can fight so darned much?
This is how I like to see my girls. Unfortunately, these days I'm more often seeing them looking like the picture of the little girls at the top. One throws something, so the other does too, then the first comes to tattle. They fight over where to sit, how much food each one has on their plate, who has the better view of the TV, who gets to play with which doll, which bunk they want to sleep on, who's talking more, when one of them sings, taking turns...the list goes on and on and on!
Right now, I'm counting both of them when there's an argument. And they seem to take turns on who's being ornery, and which one instigates trouble. I expected this stage to come. But I expected it in puberty, not at five and six! I'd say that it's too much togetherness, but I don't think that's the problem. I think they're both in a stage where they want their way, and where they're having to learn to accommodate the wants and needs of others. That's hard work for many adults I know.
I'm trying to view this as an opportunity, once again, to teach service. To teach them to put others first. To consider what God would want us to do, and how God wants us to treat each other. But it's a hard lesson, both to teach and to learn. Perhaps this is where having siblings becomes a good thing. Because they are literally forced to learn it. And hopefully they'll still love each other this much when they're all grown up.