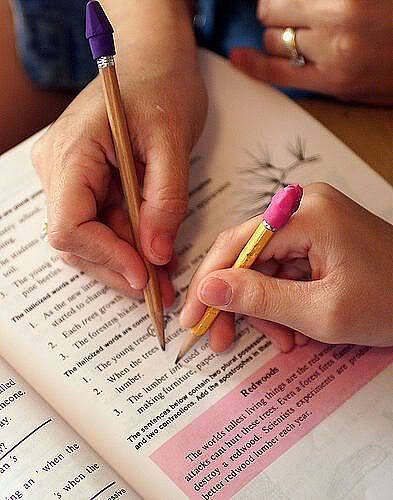 When I imagined homeschooling, I pictured a room devoted to the task. I pictured eager children who loved to learn, and loved to learn from me. I pictured a never ending wellspring of creativity from which would pour forth teaching like I'd always dreamed of having, like I got from my best teachers. And with that, I would show my children the world.
Can you tell I hadn't had much real experience with homeschooling?
The ideal I had in my head was beautiful, and sometimes I hold on to bits and pieces of that dream so that I have inspiration when I'm tapped out. But I've discovered a few things about myself. For instance, I'm not crafty. I don't make things out of household objects. Thus, we don't do a lot of crafts. I love the people who make things with their kids. That's not me. I prefer book work and reading. Also, I am not that organized. I'm never going to be that mom with detailed lesson plans for each child.
Personally, I'm of the opinion that if I teach my children to love reading, they can learn anything. The world will be open to them through books. And so, our curriculum is, and has always been, heavy with reading. I think it's one of the reasons the Charlotte Mason approach appeals to me. I love reading real literature with them, and watching them stretch their imagination beyond Nick Jr.
In my mind, I think I also pictured homeschooling to be natural, and effortless. Maybe for some people it is. I, however, am not one of those people. Homeschooling for me involves a lot of juggling. I have limited time, multiple demands for it, and not nearly enough hands. Right now I have them both work on Math while I clean the kitchen in the morning. Then one does writing while I read with the other, then we switch. We read some stories together, and we do nature learning together, and we learn what ever our focus topic is (right now it's Yellowstone National Park) together. Then I send Bridget off to play while Piper does spelling. And of course, frequent breaks to mind Quinn who gets some free time to explore new toys while we're doing school.
Sometimes they don't want to learn. Sometimes, I don't want to teach. Sometimes I'm pretty sure I have no idea what I'm doing. And then I hear Piper read, or Bridget share something she's learned and I realize again how well they're doing.
Homeschooling involves a lot of pressure. Their entire education is my responsibility. If they don't learn something, I have no one to blame but myself. What I'm having to learn now, in order to be the best teacher, is that Our Homeschool isn't going to look like a picture in a magazine, nor like the stereotypical big family all around the table quietly learning together. No. Our Homeschool will be just that: Ours. It will be made up of us, and all that we are. It will be unique and well suited to who we are as individuals and as a family. It may not be how I pictured it in my head, but it will be truly special. Because, while homeschooling can be hard, I have found it so incredibly rewarding.