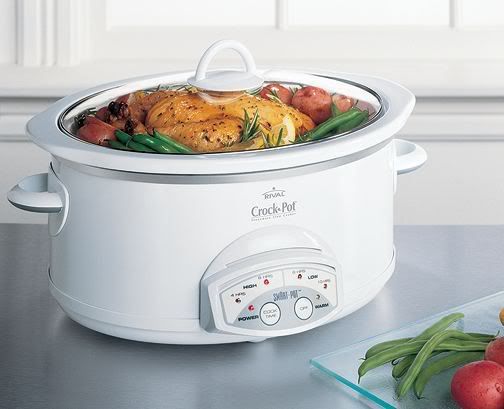 On my list of
helpful things to make your day easier
,
I recommended having meals planned
. I actually started putting meals on my Google Calendar and having each meal repeat once or twice a month, depending on how much we, as a family, like it.
This was working pretty well for me, until pregnancy hit. And pregnancy hit me
hard
. I get up and usually have some energy in the morning. I use it to homeschool, and lately to houseclean and to nest. I'm nesting pretty hard, too.
After lunch, the two youngest boys go down for a nap, I fold and put away laundry, and then, I'm pretty much toast until sometime around 4 pm. When I wake up from what little nap I may have caught, I'm groggy and sluggish.
I don't want to cook. My poor family was starting to live on hot dogs, corn dogs, frozen anything, and fast food.
Honestly, it's not the way I want my house to run, or my family to eat.
Then my friend Jennifer clued me in to one of my new favorite blogs.
A Year of Slow Cooking
.
Apparently the blog author, Stephanie (who is, coincidentally also pregnant at the moment), got the idea to spend a year cooking with her crock pot every day. It was a New Year's Resolution, and one we all get to reap the benefits of since she was cool enough to write a blog about it!
For the last week, I've been cooking with my crock pot
. In fact, my old one was falling apart, so I'm not the proud owner of 2 new crock pots (a 6 qt. and a 4 qt.) and a little dipper crock pot for yummy things I haven't yet made...like spinach and artichoke dip. Sorry, gotta stop salivating on the keyboard.
Now the fabulous thing for me is that I can use my burst of energy time in the morning or early afternoon to prepare my food and put it in the crockpot. So,
by the time dinner rolls around and I'm not motivated in the slightest, dinner is mostly ready!
The other night I made garlic chicken. My house smelled like heaven and all I did was microwave some garlic mashed potatoes and some corn and I was done. I had dinner ready in all of ten minutes. I can
do
ten minutes!
Everything I've made so far, except for one thing (and I totally messed it up by adding an ingredient that wasn't called for and just wasn't right for the dish), has been really really good. Did I say really? Really. Really good. My family has been happy. My husband has been happy (he loves that I actually have dinner prepared and he has left overs for work) and
the recipes make enough to feed all of us.
So do yourself a favor and check out Stephanie's blog. I mean it. You'll love it!
And if you don't, don't tell me. I'm convinced everyone will think it rocks as much as I do, and I don't want my illusion shattered. I've already pre-ordered her book from Amazon and am thinking of people who might like it as a Christmas gift. I'm also thinking about the yummy things I'll be cooking this week. There I go drooling on my keyboard again. I've really gotta stop that!