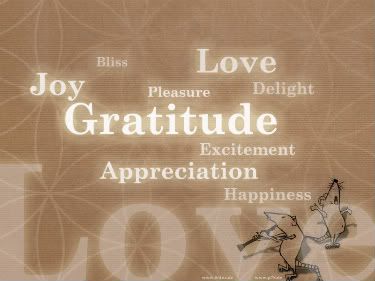 My step-daughter Karina arrived from California on Tuesday. She was supposed to come on Monday with my dad. But they were flying stand-by and didn't make any of the flights. So, they tried again on Tuesday. Only she made it.
I'm wildly pregnant and I miss my dad (my mom too, really, but my dad hasn't even seen our house yet) and I really wanted him to make it out.
When I found out he hadn't been able to get a seat on the flight, I was really sad.
I spent the morning indulging in my bad mood when
I heard a song sung by the band Barlow Girl. A hymn really.
One I used to sing often in church, with my dad, who was our Choir Director. It's called "For the Beauty of the Earth". This stood out to me:
"For the joy of human love,
Brother, sister, parent, child;
Friends on Earth and friends above,
For all gentle thoughts and mild;
Lord of all, to Thee we raise
This, our hymn of grateful praise."
I stopped my sulking and remembered how much I had to be grateful for. A step-daughter whom I adore and was on her way to see us. Children who are healthy and happy. A baby on the way. A home to live in. An amazing husband. A father willing to be at the airport at 5 in the morning two days in a row to try to come and see us. Two parents who I can call and talk to.
Just like my children,
I can't have everything I want all the time. And in those moments where I am sad or disappointed, I have to take time to cultivate gratitude for the many things I
have
been given. Life is too short to waste it pining for the things I don't have. I don't want to miss out on all that I do.