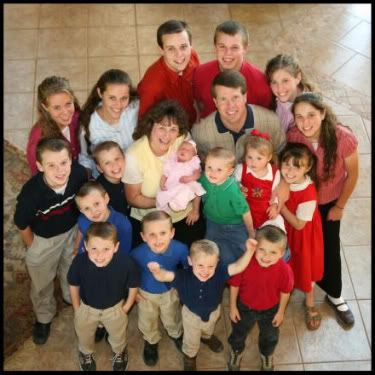 When people in the hospital found out that I'd just delivered my sixth child, most had the same question: Will you have more? To be honest, asking a woman who's just pushed a child out if she'd like to do that again, seems pointless. I'd have to be a masochist to want to do that again before I've had a chance to forget that it hurt! All I really wanted to do was rest and spend time with the baby I just had, not think about having more.
So, I come home with my new baby and turn on the Duggar show 18 Kids and Counting. On it Jim Bob and Michelle Duggar (God bless them) announced that they are expecting baby number 19. The Duggars always make me think and question. My pregnancies cause so much back pain for me. How does she do it after so many? Is it easy for them to do this because they have healthy babies and easy pregnancies? Would they feel or act differently if their circumstances were different?
I also wonder how they manage meeting everyone's needs. I've seen their buddy system and all, but what did they do with lots of young children before they had lots of older children? How did Michelle not go crazy when exhausted from pregnancy or with a new baby and all the other kids needed her? How does she work a new baby into the routine with homeschooling and everything else? And why does she make me feel so totally inadequate as a mom?
For me, Duggar Syndrome is more than just being jealous that I will never be able to have babies without thinking about things like back pain, finances, and prematurity. Frankly, I know some women have two and then are happily done, but I'll never be one of those women. I think I'll always want more, even if it's not a good idea. Duggar Syndrome is also the feeling that I don't have nearly as much on my plate as Michelle Duggar, but somehow am unable to keep it all together as well as she does. I wonder if she has had any times of self doubt as a parent.
When I'm sleeping so close to someone this tiny and gorgeous, how could I not want to be the best mom in the world? To make all the right choices? To give these wonderful blessings everything they need to be good people?
I may not be able to banish my doubts easily. But, thankfully, I'm not going it alone.