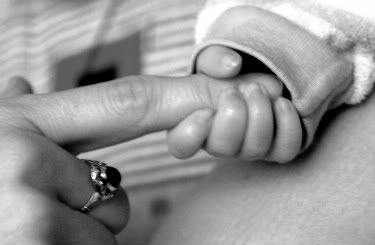 From the moment my babies were born, I knew that it was my job to protect them.
But I also knew that they needed more than just food, water, and to not be damaged. They needed love, guidance, discipline, and all the things that would make them people of character. Of course, none of those secondary things would mean much if I couldn't first offer them basic protection from harm.
In my quest to find a disciplinary style, I briefly fell for the Pearl's methods which they outlined in their book
To Train Up A Child
, and in the subsequent
No Greater Joy
Series. Thankfully, this was only a brief detour on our parenting journey (you can read more about it
here
) as I realized that
I could not continue to implement their methods without becoming abusive.
The bottom line was that it
scared
me, and while what the books promised sounded appealing, it wasn't what I was getting.
Recently,
another child has died at the hands of a parent, using the Pearl's methods
as outlined in their books. When a local news outlet contacted Michael Pearl for comment, he wrote the following in an e-mail:
"If indeed these parents were abusive, and that has not yet been proven by the courts, it is regretful that our teachings were not able to turn them from their predisposition to abusive habits,"
Source
I read this on my break at work, earlier, and I could almost
feel
my blood boiling. I wonder if Mr. Pearl has given serious thought to what his methods would look like in the hands of a parent who could lean toward being severe.
When he recommends starting with "10 licks" for a child, and more if they resist, it's easy to see how even a parent who is
not
by nature abusive, could go too far.
More than that, the Pearl's don't leave a lot of room in their literature for interpretation. They promise perfect obedience
only
with perfect application of their instructions. I don't see how Mr. Pearl thinks what he teaches would turn an abusive parent away from abuse. I think his teachings would give an abusive parent
licence
to beat their children, thinking that it was
God's Way
.
My heart breaks for the little girl who has died, for her eight siblings whose lives will never be the same, and for the parents who did the unthinkable. I will be praying for all of them.
For Christians, there is another way to parent. One that incorporates mercy and grace. Every day when I look at my children, I am grateful I took that path.
Mercy, peace and love be yours in abundance.
Jude 1:2