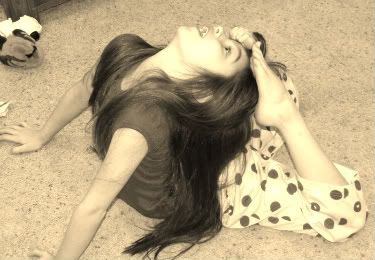 My life is busy. Even if I stay home all day long, I'm busy from the minute I wake up, until the minute I close my eyes. Sometimes even that isn't the end. My mind likes to stay busy and that can makes it hard to sleep.
Between meals, diapers, dishes, laundry, spit-up, and all the other fun things I see, I forget that
I am surrounded by beauty.
Whether it's my baby's smile, my daughter's latest dance moves, or even something as simple as a discarded yellow block, I live in a home filled with beauty, fun, and laughter.
Because
beauty can be both lost and found in the mundane
, I'm very excited about Project 365. My first post was today, Feel free to check it out. I'm at
http://365project.org/musemama/365
and my first photo is called "Baby Love".
This is a great chance for me to spend a bit more time getting to know my camera and what I can do with it.
It's also a chance for me to spend some time seeing my home and my life in a new way.
Instead of looking for the latest thing I need to do, I can look for the thing that's interesting, or tells a story. The picture in this post tells a story. It's a short story about the lengths my kids will go to in order to get their picture taken, but it's a story nonetheless.