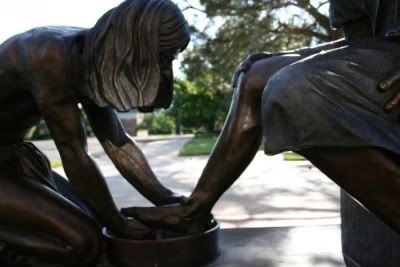 Today, after a long day at work, I had a 15 minute massage. It was a gift from the Fun Committee at work to show appreciation for the staff. I spent my 15 minutes happily relaxed, talking all things baby and natural family living with the pregnant Massage Therapist.
As she relaxed my body, and the talk relaxed my mind, it got me thinking about the ways I'm blessed with opportunities to serve.
Don't get me wrong.
I'm not a martyr reveling in her "service" which ends up being some kind of code for being taken for granted.
But, both in my job (which I love) and as a mom (which I love) I have the opportunity to serve others and to serve God. While it's often against my nature, I find that
when I submit and do what needs to be done I feel both productive and content.
I think the idea of service and servanthood goes against the way we're taught to think in the modern world. It's hard and requires me to put others needs and desires before my own. But
if everyone served each other, imagine what we could accomplish!
At the very least, I want to see it in my home.
I want to serve my family, but they also want to serve each other and me.
Submission and service are hard things to do, but through them, I hope to have great rewards. Especially as a mother.
You, my brothers, were called to be free. But do not use your freedom to indulge the sinful nature; rather, serve one another in love. The entire law is summed up in a single command: "Love your neighbor as yourself." Galatians 5:13-14