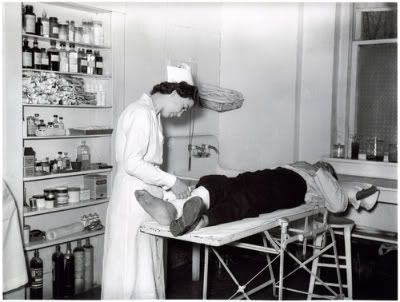 On days that I work, I decided I wanted my blog to reflect how my career outside the home has shaped who I am. Being a nurse isn't just a job. It's one of the main ways I identify myself.
I am a
nurse
.
My first real job was in (what was called at that time) a sub-acute unit.
In a perfect world there were four of us and we never had more than nine patients. Of course, it wasn't a perfect world.
I could have 18 patients on a really bad day. All of whom needed scheduled meds, treatments, PRN pain pills, therapy, calls placed to doctors, labs drawn, and time. My time. On top of that there were admissions, discharges, and not much in the way of help.
This daily routine of meds, treatments, doctors, and charting was supposed to happen 3 days a week, for 12 hour shifts.
Since I was a new nurse, it often ended up being four or more days a week, 14 or more hours per shift.
I was exhausted and stressed out. I worried that I would make mistakes that would leave my patients at risk. Sometimes I'd wake up and call the desk at 3 AM, asking them to make sure I'd filled out the lab slip for something due the next morning.
Eventually I left that unit. I enjoyed doing other things.
And now here I am back on (what is now called) a Transitional Care Unit.
Some days we're slammed with admits. Some days we're slammed with trying to get everything finished from the admission parade from the day before. We want to provide the best care possible for those in our care, and I promise you that we work really hard to do that.
I think sometimes that it would be nice if we could have more nurses and support staff with whom to share the work load with.
But I also know that's unlikely to happen.
Then tonight I thought about the nurses who've gone before me
. Women working in hot uniforms, long sleeved dresses that made the physical parts of their job more challenging. So many nurses have worked so hard in conditions I can't even imagine. I think they would be grateful for how much we have at our disposal. The things I take for granted.
I wish I were a bit less stressed at work. I'd like to be able to take the time to really focus on each task at hand and know that at the end of the day I crossed all my t's and dotted all my i's.
I'd like to have made a difference in someone's day, even if it was just encouraging a co-worker.
As much as the job I do can drive me crazy (and believe me I'm exhausted right now!) I still love what I do. I love seeing our patients go home feeling better and moving better. I love getting to know the families, and their stories.
I love that I get to work with some incredibly knowledgeable professionals who never hesitate to share with me and help me grow and learn.
But some days I do call my bestie in California and ask her to
remind me why I ever gave up being 19 and working at Disneyland.
Then she reminds me how much cooler it is to be a nurse. Even if some family member has decided I'm incompetent and possibly the anti-Christ while another family member has decided I'm an angel sent by God to help care for their mother. It's still a cool job where I (hopefully) get to make a difference. Though
I may dissolve into a funky puddle of stress if I have too many more days like I've had this week. *oof*