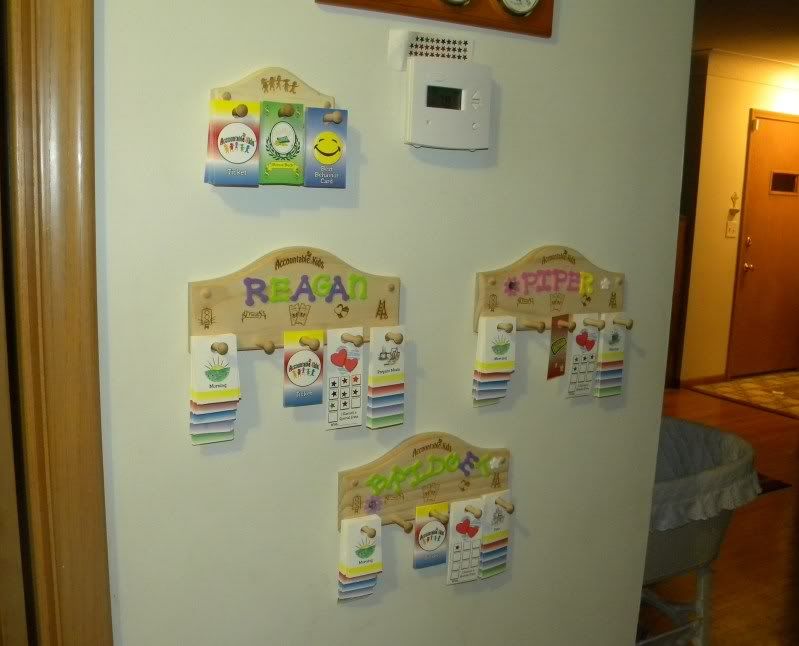 So, it turns out that having six kids can be kinda hard. They all have things they want to do, things they need to do, and things I need them to do. Keeping track of everyone is a challenge. And making them accountable is hard, too. Especially if you're like me and would prefer to make parenting more carrot and less stick. Then we started using the
Accountable kids program
. We really really like it a lot. Really.
Reagan, Piper and Bridget each have their own board, which they've decorated. On the far left peg is their basic daily chores, organized by morning, day, and evening. These are the chores we expect them to do as part of this family. When they complete one, they put the card on the second peg.
When a set of chores has been finished, they get a ticket. Tickets are then turned in for privileges such as TV, Computer, and other special things. For extra good behavior, they can earn a Best Behavior Card (which we use to get a roll of a die for extra tickets at the end of the day). When they've succeeded in not doing something that we're trying to stop, they get a Privilege Pass (which around here can earn a Happy Meal). All of these: Tickets, Best Behavior Cards, and Privilege Passes, are kept on the third peg.
On the fourth peg is a date card. Every day that they complete all of their chores, they earn a star. 10 stars earns a date with mom or dad. I'm taking Piper and Bridget to see Shrek tomorrow since they've earned a date. We have lots of date ideas and the kids are always excited about them.
On the fifth peg is a set of cards which are bonus chores. If they complete one they can earn a bonus buck, sometimes 2 or 3 depending on how difficult the chore was and how good a job they did. On Monday's we have a family meeting and Bonus Bucks are turned in for allowance. Reagan's bonus bucks are worth $1 and the girls' bonus bucks are worth $0.50. We do have a cap on allowance, 1/2 their age. After the family meeting, we do something fun, like play a game as a family. The kids look forward to it, every week. Actually, we do too.
If they misbehave, or don't get chores done, I can take tickets away. It has largely worked well for our family. I still have to be on top of things. "Board Check" is heard multiple times a day in our house. But I no longer have to micromanage and that is a huge gift to me. Honestly, anything that makes the mom job easier, is a big win for me.