I have so many things floating around in my head, it's hard for me to pick just one to talk about. There should be tons to blog about, but somehow, I just can't focus.
I don't know what I want to share most. Everything is so
shiny
.
So, we've thrown over the
evil empire
cable company in favor of a spankin' new
Roku
box and we're pretty darned happy about it. Suck it, Comcast! Lots of TV and the loss of $100 a month in unnecessary cable costs.
My husband has flown through nearly all five seasons of the new Dr. Who series. And he thinks Amy Pond is pretty hot. River Song, too. He's now thinking we should call Liam, River. While I can see the appeal (Firefly
and
Dr. Who reference) I'm thinking that explaining he was named after not one but
two
fictional girls will be even harder than explaining to Reagan that I didn't name him after the President, but the chick from the exorcist. When I told him that, his head spun around, and I was reminded that I
totally
made the right choice.
Some couple got married in England, it was on the news once or twice. We caught the highlights and were amazed that people not only
manufacture
some hideous hats, but that others both buy
and
wear them. In
public
. There were beautiful hats, and I can't for the life of me figure out why some wouldn't choose those instead. I'm looking at
you
, Princess Beatrice! Stop taking fashion tips from Lady Gaga.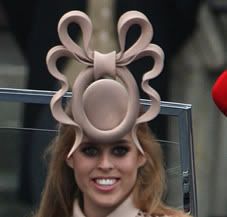 I discovered this week that while I like deviled eggs, the hubs not so much. I think if I make them again this week, he might divorce me.
See? Lots to talk about, not exactly a lot of substance.