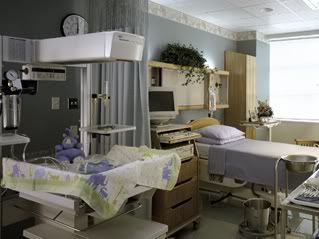 It was a really nice day. It was Dominic's second day off and his plan was to let me rest for. I had been feeling "off" for a day or so. No big contractions, but I just didn't feel right. I planned to take advantage of Dominic's plan and practice some serious bed rest.
Silly me, I thought I might feel better with a shower. So, I got up to take one. After my shower, I was standing in the bathroom when I felt a pop, and I felt the water go. I yelled for Dominic who knew immediately what happened. He walked in on me, still leaking and calling for a towel and a baby diaper.
I got dressed, cleaned up the mess I made, and called the doctor's office. They called the hospital to let them know I was coming and then called me back to let me know not to eat or drink.
How did they know I wanted to eat? They ruined my plan. But then again, I hadn't eaten since 9 am and my water broke at noon. I needed to be without food or drink for six hours before my c-section and I was already halfway there.
I packed my bag, called my Sonya, and updated Facebook. (Yes, I over-share, and I'm a geek.)
Once Sonya came to stay with the kids, I put on a second diaper, I'm very cool aren't I? And then we were off to the hospital. Dominic got to eat something. I was jealous.
At the hospital I was supposed to be checked to verify rupture of membranes. A lot of pregnant women just wet their pants. And, honestly, with my first child, I did too. But this was not my first go around. When the nurse saw me pull out a fully soaked second diaper, she didn't doubt that I knew what I was talking about. She was also kind of impressed. I guess some women don't do anything, and just ruin the upholstery in their car.
I quickly found myself in a room, hooked up to the monitors, and contracting regularly. Things got moving for a c-section. The doctor came in to talk to me. While
I
knew that I was 34 weeks, their count was a bit off from mine and they considered me 33 weeks and 6 days.
Usually
before 34 weeks, they try to stop labor, and even with ruptured membranes, will let you stay ruptured and just watch for infection, trying to buy more time until 34 weeks.
But I was already contracting, and they didn't want me to end up in full blown labor and not have time to do the surgery. Not when, by their calendar, I was 12 hours away from 34 weeks. The section was then scheduled for 5 pm. And I was grateful. He was coming.
I might have been a bit nervous too. But a girl's allowed, right?
To Be Continued...