"So the Christians and the Pagans sat together at the table,
Finding faith and common ground the best that they were able,
And just before the meal was served, hands were held and prayers were said,
Sending hope for peace on earth to all their gods and goddesses."
Dar Williams - The Christians and The Pagans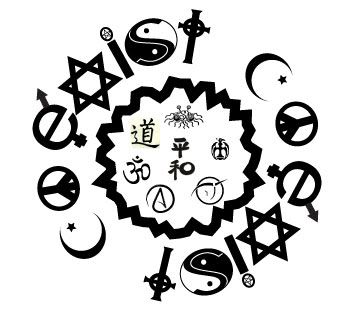 Circle of Mom's is having a contest for it's
Top 25 Faith Blogs
. What a great way to put moms who blog about their faith (among other things) together to be easily found and appreciated.
Unfortunately, one of the bloggers on the list is upset that she, a Christian, should have to compete with Pagans and Witches in the "Faith" category. I'm not sure what she thinks she knows about the beliefs held by Pagans and Witches, but it's a shame she didn't use the opportunity to learn sometihng as opposed to getting angry and becoming disrespectful toward other people of faith. From an outside perspective, it doesn't look very Christian.
Christians and Pagans don't see Deity in exactly the same way. Certianly the way we choose to reach out and touch the Divine is done differently even among Christians and Pagans themselves. But in focusing on our differences, we miss so much that we share.
Both Christians and Pagans are taught to do good, and to harm none.
We're both taught to find the beauty of the Divine in th mundane, the everyday, and the world around us.
We're both taught to be good stewards of the natural resources and the gifts we've been given.
We both want to use our faith to bring positive change to the world.
We both want to protect our children, help them to grow up safe and nurtured, so that they can go out into the world as responsible and prepared adults.
We both look to our faith as a source of strength, comfort, and as a way to bring peace and balance to our lives.
I don't think it's enough that we learn to tolerate one another. Instead I'd like to see us show each other the respect due any human being. Whether they worship ancient Gods and Goddesses, or no God at all.
For some Pagans, I think this is one of those times when it's easy to remember what about Christianity may have made them angry in the past. After all, many Pagans have come from Christian backgrounds. But the faith at the core of Christianity focuses on kindness to others, loving one's neighbor, peace, forgiveness, and charity. And there are Christians who know and attempt to live that.
For some Christians I think it's important to remember stories Jesus loved to tell of who was really Godly. There are many times that Jesus spoke to and listened to those who would have been considered hopeless to the "Righteous". I don't think it compromises Christian beliefs to show others kindness and respect, even when they disagree on matters of faith.
Faith is something that connects us, whether our faith is in a God and Goddess who's love we see reflected in every living thing around us, and whom we worship in accordance with the cycles of the Moon or our faith is in the Triune God who's love is reflected in every act of kindness done by the hands of those who follow him, and in the world He created.
I hope that those of us who write Mommy Blogs, especially those of us who openly share our faith, can continue to discuss how to reach out in love to those who believe differently than we do. Or at least acknowledge that a faith we don't understand is no less a faith.
"And it was Jane who spoke, she said, "It's true, your cousin's not a Christian,"
"But we love trees, we love the snow, the friends we have, the world we share,
And you find magic from your God, and we find magic everywhere.""