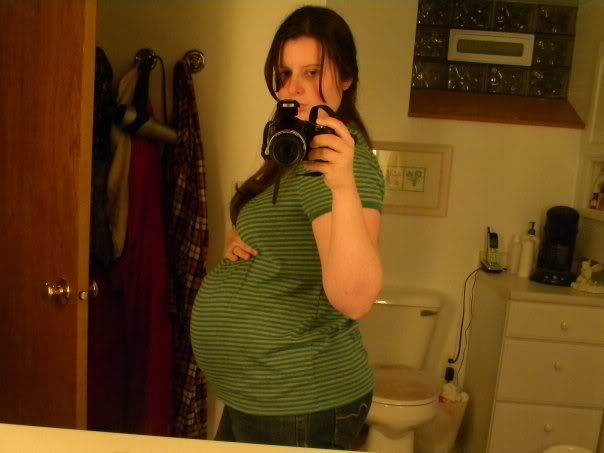 This is not me now. This was a picture I took at 29 weeks pregnant with Brennan.
Dear Liam,
I love you so much. I've loved you since you surprised me with a positive pregnancy test. I loved you when I first noticed that I was growing bigger after losing 50 pounds. I loved you when I felt you move for the first time. I loved you when they told me you had an encephalocele. But, I was very scared.
You are such a strong little boy. Somehow you've managed to beat all the odds. I wonder if you will be as fearless on the outside as I imagine you are on the inside. I think I imagine that you're so fearless since, like I said, I've been so scared.
You've continued to grow and thrive and do absolutely everything we've asked of you. So now, I have a few more requests. Listen carefully.
Please stop making my uterus contract. It's too soon, and it's exhausting. Not to mention unnecessary. You're being born via c-section.
Please stop hitting me in sensitive areas. My cervix is not for punching, and my bladder is not a trampoline.
Please wait at least another week to be born. 35 weeks is even better than 34 weeks. Not only will you have beaten Brennan in the who-can-stay-in-Mommy-longer contest (and how often will you get to one up your older brother?) but by then your sister Karina will be here, and I won't have to ask so many people to come and help us.
Please sleep when I do. I'm getting dark circles under my eyes because I'm so uncomfortable and you apparently think there's a circus whenever I lie down.
Please calm down when I move, and move when I sit still. This is how the other fetuses do it. You can too.
Please come out and be okay. I know you can get through surgery without frightening me anymore. Right? Right!
I love you and I'm excited to meet you. I can't wait to see your fingers and toes and look you in the eyes and see you for everything you are. I'm sad that I won't get to keep you with me every second and bring you right home to the family that will love you as much as I do. But I'm so glad that such good people are going to take care of you. And I won't be far away.
Love,
Mommy