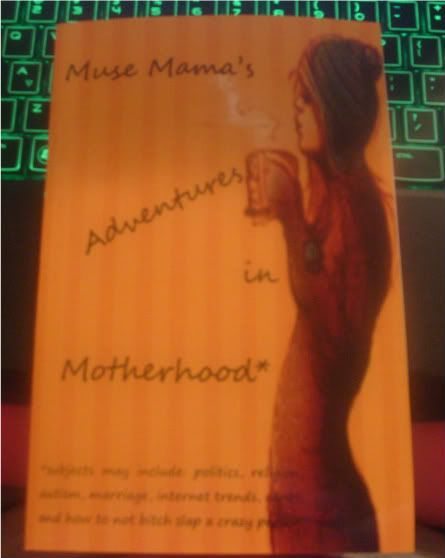 So, what makes the bestest step-daughter in the world? One who loves her step-mom so much that she took her favorite posts from this blog over the last year and turned them into a book.
I think my heart might have stopped. And there might have been tears. I can neither confirm nor deny.
As it happens, my favorite English Major had a project this semester where she had to publish a book. And she chose this blog. As a belated Yule gift, she gave me my very own copy. I say it counts! I'm a published writer. So....there.
The front cover warns readers:
*Subjects may include politics, religion, autism, marriage, internet trends, rants, and how not to bitch slap a crazy person.
I'm
so
glad I'm teaching her all the important things.
Take note, publishing world, I think she'd be a good blurb writer. On the back of the book she says:
Follow internet Muse Mama, Anne Basso, in her daily adventures of being a mother to a brood of seven children. In these selected passages from her popular internet blog, you will find yourself laughing, crying and shaking your head at her funny anecdotes, pithy quips, honest opinions and sage advice.
She gives me
way
too much credit. But what were her favorite posts from the last year?
Epic Fail Day
I Will Not Be Afeared
And The Earth Shook...
And The Earth Shook....Part II
Babies Should Come Home
Some Things Don't Change
The Long And Winding Road
Remembering To Breathe
Where Is It?
Spectrum Saturdays: 10 Things I Wish People Knew About Raising A Kid With Autism
My Mother Will Be So Proud That I Wore Lipstick
To Train Up A Parent
The Beginners Guide To Pregnancy
The Christians And The Pagans
Make Way For Ducklings
I liked those too.
Thank you, Karina, for being you. I know I'm so much better for having had you in my life all these years.