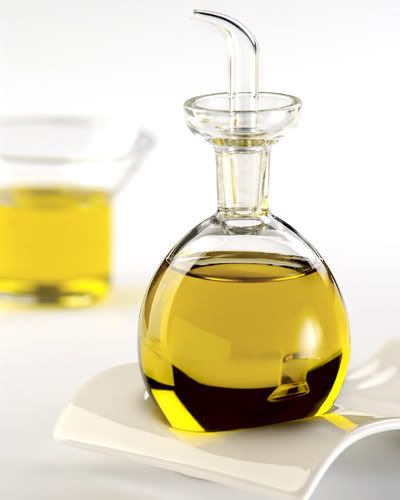 Beauty should not be hard. The world we live in is bent on convincing us that we need fancy and expensive products in order to take care of our skin. But maybe all we need to keep it clean and pretty, is...oil.
I had never heard of the
Oil Cleansing Method
(OCM) before reading about it on the
Sorta Crunchy
blog. But once I read about it, I knew I had to try it.
Here are the basics:
The oil cleansing method works on the premise that oil dissolves oil. So if you put the right oils on your face, it will soak into your skin, lifting dirt, grime, and impurities, and then it can all be steamed away, leaving clean fresh skin.
You need two oils. The first is Castor Oil, which is the cleansing oil. I read somewhere about someone who just used the other oil and had terrible results. I'm not surprised. You
need
that Castor Oil. It is not just for your grandmother's medicine cabinet anymore.
The second oil can vary based on your specific needs. I'm using Sunflower Oil. But Extra Virgin Olive Oil works and is great for normal/combination skin. Oils like Jojoba are good for oily or acne prone skin.
This
site lists a number of others that you can use.
For more oily skin you should use up to 2/3 Castor Oil to 1/3 secondary oil. For dryer skin, use 1/3 Castor Oil or less. Oddly enough, too much Castor Oil can actually
dry
your skin.
To use the oil, you take about a quarter sized amount in your hands, rub them together to warm it up, and apply. Massage your face for about two minutes and then let it sit for another minute. Then it can be steamed away. Some people use a washcloth with hot water to wash away the oil. You get the washcloth steamy (not scalding) and just set it on your face, letting the steam work it's way into your pores and cleaning them out. You repeat that several times to get the last of the oil off of your face. Or, you can just jump in the shower and let the steam work there.
And you know what I found? It worked right from the start.
At first, some people find that the OCM opens up their pores and allows their natural oils to flow, leaving them a little greasy for a few days. I didn't have that problem. My skin just felt amazing. I did have one spot that had been coming up before I started doing this, and honestly, if I'd left it alone it might have just gone away. That spot was my fault, not the OCM. It's finally gone and I"m so happy with how my skin looks and feels.. My dry patches are gone! I can use my mineral make up again and it sits on my skin the way it's supposed to!
So here's what I'm doing now. I do the OCM every other night. Every night was too drying for me. In between I clean my face with warm water and a little witch hazel. Some people who use OCM don't use any moisturizer. I do. I like the anti-aging benefits of my night cream, and I strongly believe in the use of SPF during the day. I'm fair and most skin damage comes from the sun. But that's an individual choice. Some people just use a drop of the oil mixture as a moisturizer.
The OCM keeps harsh chemicals off your skin, saves money, and is a simple, green way to take care of yourself. It's totally worth trying if you're interested.
Now I'm thinking about going shampoo free...I'm not sure I'm brave enough yet. But I'm
hooked
on the OCM.