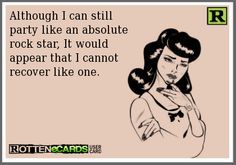 I do not advocate drinking to escape from ones troubles. It doesn't really work, and there comes a point in your life where, as the meme says, you can still party like a rock star, but you just can't recover like one. Let me tell you, I can
not
recover like one.
Still, some days just kind of chew you up and spit you out. The kids scream at each other, the dog chewed something you would have liked to keep, you noticed another wrinkle between your eyes because you keep furrowing your brows and telling people to "stop it!". Liam learns to say "balloon" but won't say it if I turn a video camera on. I know. Oh, how I know.
If you haven't guessed, my day blew. I won't get into it too much, and I'm not trying to be vague. It's just that it has to do with money. Money problems are embarrassing, and they feel really personal. Like being naked at a family reunion. You know what I'm talking about, right?
I used to say that I was bad with money, but I don't think I am. I think if there was more of it, I'd be freaking phenomenal. But when you're dealing with a smaller amount, every month is like a game of Tetris. Place this bill here, and this payment there, and Woot! I made it all work! So, that I've been making it work as long as I have, is pretty damned impressive. I just haven't figured out how to make this latest piece fit. I will. But first there will probably be some tears, and I might throw up. I'm super great like that.
I kind of have that feeling in your stomach like I used to get when I'd skipped school and knew that the school had called my parents, and knew my parents would be waiting at home for me. It's foreboding I think. Or I ate a bad burger. No, definitely foreboding.
So, not that I plan to drown my stress. Who knows, I may not even have a glass at all. I have this weird problem where I think I'll have wine, and then I get all the kids to bed and the laundry folded, and I know if I have a glass, I'll just go to sleep, so I skip it. A friend of mine tells me that's why she never worries about me and drinking As a recovering alcoholic, she was never too tired to drink. But, sometimes it's nice just to sit back at the end of a crappy day, with a nice glass of wine and the remote for the TV, and tell the world to kiss your ass.
Or maybe that's just me.