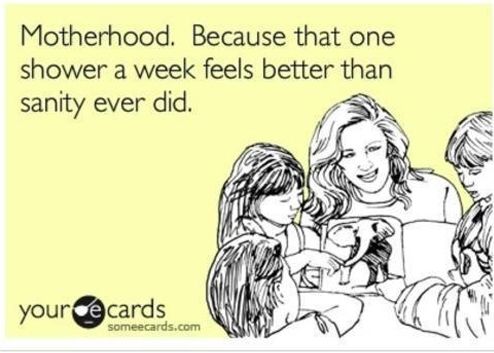 I can feel Summer winding down. Can't you?
The blogs I read are full of stories about going back to school, final trips to the beach, and books to read while there is still time.
I still have a couple of weeks before all of my kids are back in school, so while some of those posts are coming-soon here, I'm not quite ready to write them yet.
I think, as Summer has worn on, I have felt more and more worn down. I think it's possible that it's made my blogging sound a little whiny. Or that might just be what my husband told me after reading my last post. He's so helpful, isn't he?
So, even though I just had to deal with Brennan who was screaming and kicking the wall because someone else was playing with a toy that he wanted (but of course is never interested in when it's unattended), I'm going to list what I'm really happy about.
I have wine. Okay, maybe this shouldn't be first, but it does make me happy.
My kids are incredibly helpful. Not just with hiding fruit in my couch cushions, either. My big kids help with every aspect of our day, and my littles are especially helpful to my psyche, as they are skilled in the hugging and cuddling department.
I have fantastic neighbors who haven't complained once that my garden is pretty much all Native Minnesotan growth (also known as, whatever the heck popped up in the dirt because I suck at gardening).
I have a book club that I've joined. So I have an excuse to excuse myself and read for a while, which feels decadent. Plus I get to follow that up with time with grown-ups talking about books. How awesome is that?
Outlander has been made into a TV show. Their line "The Kilt Drops" tells you almost all of why that show is going to be awesome, and why I will not miss an episode.
I have been asked to start writing for The Sunday Stew, an online weekly Pagan publication, as their mom blogger. I'm so excited! Especially since most of the time I feel like a giant hack any time I write anything.
And hey, I'm in the top 50 in the Best Mommy Blogs rankings, thanks to the people who read this doing things like clicking the link at the bottom of the post. I'm am actually really excited that people are reading here. I love writing, I love talking to other moms, and I love it when something I say resonates with people. Especially when, with seven kids, it can feel like I go all day and no one has heard me once.
Thanks for reading, thanks for commenting, and I hope you're finding things to love even as Summer winds down.
*****
You read all the way through that? Thanks! If you liked it, click the link below which registers a vote for me, would you? Thanks. You're the best!