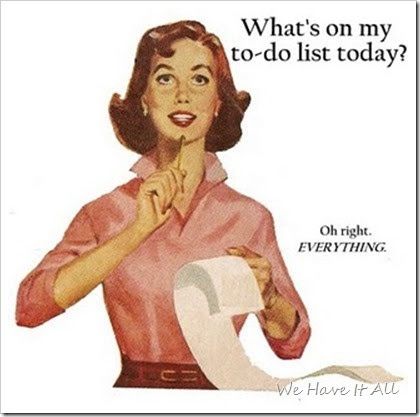 There's this thing that they don't explain about motherhood. I mean, they try...
"Enjoy your sleep now, while you can!" they say.
"They'll keep you up nights, but it will be worth it." they say.
What they don't say is, "Enjoy the last days of you somewhat belonging to yourself. Because for many years to come, you won't even be allowed to pee on your own."
We expect that our sleep will be disrupted. What we don't expect is that there is
never
any off time.
Not when you're a parent.
I used to think things would be different if I were at home full-time. I thought I would get things done, everything would run more smoothly around the house. But that's not how it works. My work hours used to be filled with caring for patients, now my work hours I'm caring for my kids. It's just as much work and leaves me just as much time for everything else. Granted, I'm not expected to chart for them. How weird would that be:
8/4/2014 10:05 am Explained procedure to child. Child expressed understanding but did not give consent. Child was carried to the bathroom and made it clear to this mom that he thinks she is a snotty-poopy-head. Potty-time tolerated well, despite outburst. 1 book read and 2 songs sung. Hands were appropriately washed for a full 30 seconds afterward per protocol while singing the handwashing song. At this time, child has stopped shaking his butt at siblings saying that he has a poopy inside.

11:00 Child angry with sibling. Called him "stupid stupid head" and threw wii remote at him. Remote made contact with sibling's arm. Sibling cried. Incident report completed. Child was sent to time-out for 4 minutes. Reminded to stay in time-out once. Placed back in time-out twice. After a good cry, child apologized to this mom and to sibling. Is still calling sibling a "stupid stupid head" under his breath. When requested to stop, child threatened to throw a toothbrush, to which this mom threw up her hands and waved them, saying, "Lookout! We got a baddass over here!"
Who doesn't love a Neil Degrasse Tyson Meme?
No, definitely not going to chart what goes on around here.
If you're like me, you're often up before everyone else, and you don't go to sleep until long after they do. Even in your few down moments, you're still on call. Did you want a bathroom break? Well, sorry, you're not doing that alone. Did you want to sit and write a blog post? Well, I hope you were not expecting to do that all at once, someone is going to need you at least three times.
Even when you're not "working" you're still on call 24 hours a day, 7 days a week. And at the end of the day, sometimes it doesn't look like you have anything to show for it. While I know that I really do, and that I just can't necessarily see it yet, it can be discouraging.
Sometimes I just think I just need more hours. If I could just get a few more hours to garden, to clean, to drink margaritas on the porch with my neighbors (that's just fantasy, I know), or to do the laundry that never finishes, I would be set!
Seriously, as an aside here, I don't believe in hell, but if I believed in it, I'm pretty sure there would be a special circle of it that was nothing but a refilling laundry pile for all of eternity. That's where they'd send the pedophiles and people who talk at the movies. (Look at that, I can work a Firefly reference into a blog post!)
Maybe I need to set a more serious bedtime. And, not that I won't still be on-call, and I would still feel like I'm quitting too early, and not finishing enough, but I think it would be good to set a point in the evening after which, I would, for the most part, be off-duty. No more laundry, no more school stuff. I'm off.
Yeah, that really needs to happen. And I need to start accepting that I have some limits. I can't do it all, not remotely. No one can. But maybe if I do my best, and do it with love, it will be enough.