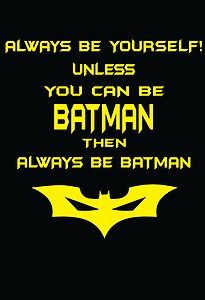 Siri calls me Mrs. Awesome.
It went something like this:
"We're not friends, Siri. You can call me Mrs. Basso."
"Would you like me to call you Mrs. Awesome?"
I paused, and my annoyance with my favorite technology just melted away, replaced by what I'm sure was a very smug smile.
"Yes, Siri, yes I would!"
So, Siri calls me Mrs. Awesome.
But she calls my husband, Batdad. He likes being Batdad.
We are a geek family. Our house is full of Magic cards, Lord of the Rings books, Doctor Who paraphernalia (like the exploding Tardis print above our couch, or our Tardis cookie jar), and computers with games.
Tonight, in fact, I'm watching Gotham with them. Because....Batman!
I'm so thankful that geek culture has become so much more mainstream. I love sharing these things with my kids. And I love that these things are available for them in a way that they weren't for me.
Mostly, I want my kids to be themselves, no matter what.
Somehow I doubt any of them will be Batman. At least outside of a convention. But a mother can dream...
*****
Thanks for reading my blog, which lets me have a place to be myself with all my thoughts. If you like it, please click the link below which registers a vote for me, would you? Thanks. You're the best!