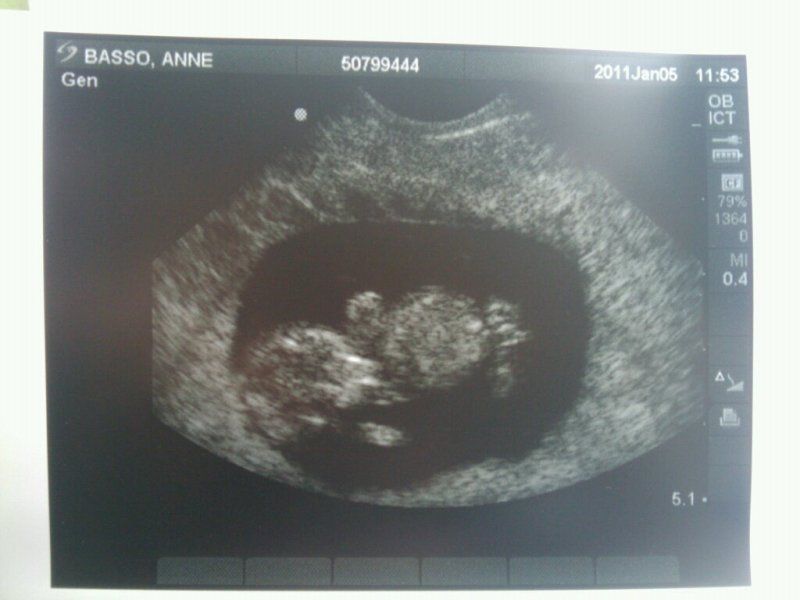 Liam's First Ultrasound
November of 2010, I discovered I was pregnant. With six children already, and feeling pretty done with having babies, no one was more surprised than I was. But we love babies, and we love our family, so we quickly became excited about our new addition. Our first view of him was wonderful. He was perfect.
In March, we went for our level II ultrasound, a routine thing after the loss of our daughter Sarah (see link above). The most exciting thing should have been discovering that our baby was a boy, but unfortunately, it wasn't.
Liam, just minutes old.
That day, we discovered that Liam had a rare neural tube defect called an
encephalocele
. It's when the neural tube fails to close during embryonic development. Because of that, the skull doesn't close, and the brain herniates through the opening. Very often, it is incompatible with life.
I left that day with a few pictures, and not a lot of hope. But Liam was a fighter, and I knew I had to fight for him. It was a scary pregnancy, and you can read about that journey by clicking on "Liam's Story" in the labels section in the sidebar.
Within a couple of weeks, after going through a battery of tests, and meeting with a Pediatric Neurosurgeon, we were much more optimistic. Despite his large 'cele, there appeared to be only a small amount of brain inside of it. It was operable. We weren't promised that he'd be perfect, but the doctor felt that he had a very good chance at life. We clutched at that hope, knowing already that, encephalocele or not, our Liam was already perfect.
He was born on June 14th, when he came screaming into the world 7 weeks early. Within two days he'd had brain surgery, and within a couple of weeks, he was home with us. He did require another surgery at about five months old. He had a shunt placed to treat his hydrocephaly. He came through it like a champ.
There are many things that are uncertain for Liam. He's followed by the neurosurgeon, and Early Childhood Special Education. He has some developmental delays. But he walks, he sings, he jumps, he plays, and most importantly: He breathes.
He is our miracle. And we are grateful every day, that we got to keep him.