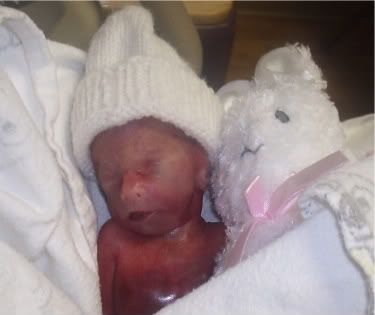 Sarah, Our Shooting Star
My daughter was born, and died, on February 25th, 2005.
With the help on my husband, my doctor, amazing nurses, and a kind friend, I labored to bring Sarah into the world. We were only 22 weeks and 3 days along and did not expect her to survive for even a few minutes, as some babies do at that gestation.
It's amazing how quickly things can change. A week and a half before had been Valentine's Day. We celebrated love, we celebrated our daughter Bridget's first birthday, and we celebrated having our ultrasound which told us we were expecting another daughter. The ultrasound is how we ultimately learned the worst. Somewhere early in pregnancy, Sarah had stopped developing properly. Her brain had not fully divided. It's a disease called HPE or holoprosencephaly. She also had hydrocephaly, an encephalocele, and problems with her heart and placenta. The placenta kept pulling away from the uterine wall, causing bleeding during my pregnancy. The wide range of problems led them to believe Sarah likely had a chromosomal issue of some kind. We never were able to find out for sure, due to a lab error.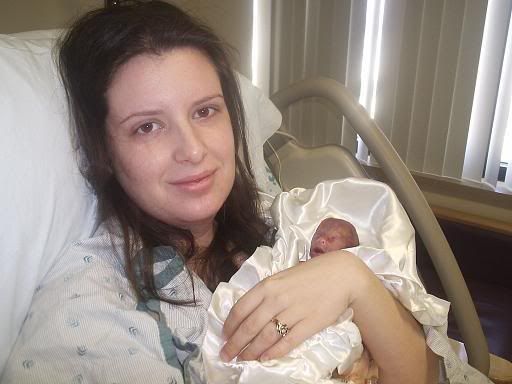 Holding Sarah for the time I could
Getting a diagnosis like that is absolutely devastating. My husband and I had to make a decision about continuing the pregnancy. It was made clear to us that our daughter was terminal. No matter how long we carried her, she would die. There was no treatment, no surgery, nothing. If there had been, we would have done it. After all, we loved her and wanted her very much.
At first that was all that mattered. Our daughter's health. Then I found out that carrying her to term would be risky for me. There were a number of possible issues that might arise. The one that scared me the most was the idea that as the placenta grew, and continued to pull away from the uterine wall, I could hemorrhage. We believed that Sarah's life was a gift, even if she would never live outside of me. But my life was a gift, too. And we felt strongly that I couldn't risk it. Not to prolong her death. Not when it meant that my daughter might suffer. This was a very personal decision, and I don't believe that there is a right or wrong answer. You have to do what is best for you and your baby.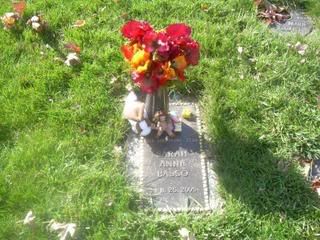 Sarah's Marker
We made the agonizing decision to induce labor early. I wanted to deliver her, to hold her in my arms. Dominic and I made our decision together, but not without council, prayer, and grief. We hoped and prayed for a miracle till the very end. We wanted Sarah to be born whole, and to know that she was loved. I don't know, ultimately, if she knew how much we loved her, but she was born whole. With a silent delivery, and two grieving parents, she slid gently into the world, already gone from it. We held her for hours, shared her with family, and cried with everyone who was there.
Sarah was warm and beautiful with her button nose, long perfect fingers, and great big feet. It was so wonderful to have her in my arms. I touched her face, played with her ears, marveled over her little mouth, and kissed her tiny sweet face. The hard part came when I handed her back to the nurse to take away. She told me I could have her back if I hadn't had enough time. But there can never be enough time with your baby. Nothing short of taking them home to love forever is good enough.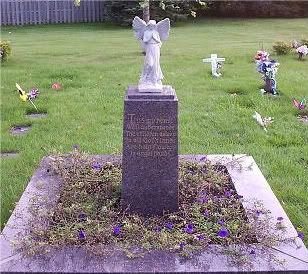 The angel who watches over the children's cemetery.
I did see Sarah again before I left the hospital. I needed to say goodbye before going home. Days later I found that our older son was sad that he hadn't been able to say goodbye to the sister he'd been waiting for, and so, with the help of the mortuary I saw her one more time, with him. I think she actually looked more perfect then. Her skin was clean and she looked just like her sisters. She would have been a beautiful little girl.
We buried her in the Garden of Little Angels in the nearby cemetery. Through all of this I have learned that neither Sarah, nor Dominic and I are alone. Sarah is in the company of so many other precious children whose mothers miss them, and I have joined a sisterhood of mothers of loss. I would give anything to take away their grief, but I am thankful for their support and the support of so many people who offered me encouragement and kindness when the world seemed to have turned upside down. I still miss her everyday.
Thank you for sharing her with us. Having other people know her story, keeps her alive for us.
For anyone who wants to read our whole journey with losing Sarah, please see "Losing Sarah" in the labels section of my sidebar.
For anyone facing this kind of decision, or a difficult pregnancy, please feel free to contact me, via the tab in the sidebar. I received some unkindness as we went through this, but I received much more support. After losing Sarah, and then having
Liam
, I feel very strongly that it's my duty to pay that support forward to other moms and families.